I have a smartphone.  I love it.  I also have a slightly outdated iPad.  I'm loving that too.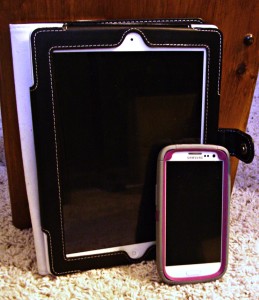 Games are fun ( I wasted a decent amount of time on Temple Run the first week I had my phone), but these are amazing pieces of technology, capable of putting the world right at our fingertips.  I want to get the most out of them.  So I went on a search for great apps.  These gadgets are only useful if well-equipped, right?  In addition to the many, many fart noise generators I found (the first one clearly didn't fill the void in the market), there are some phenomenal apps to help turn your gadget into a serious craft tool.

I'm still pretty new to Craftsy, but I love the concept.  Online classes and support to increase your skill set.  Most of the classes aren't free (though some good ones are!), but the app is, and once you download it you have access to all of the classes you've bought.  Only seems to be available on iPad and iPhone right now.
I love this one!  See a color you like on a flower, a billboard, where ever, just open the app, point at the color and it will tell you the color name, hue, HGB and HSV values.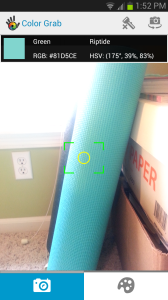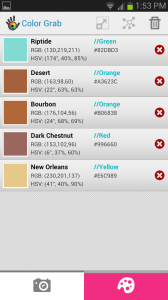 Awesome app if you're picking paint colors (you have the exact color saved on your phone to get the right paint) or if you're doing any kind of graphic design.  This one is just for Android phones.  If you've got an Android, get it.  It's fun to just play with, even if knowing your dog's actual color is "bourbon" has no immediate use.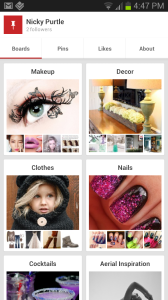 I was embarrassingly late to Pinterest. I was nervous it would distract me even further from things I'd like to get done.  I was correct.  And now I can access it anywhere.  Pin.  Pin everything.
Another one just for Android devices, but it's a great one for embroiderers.  It enables you to inventory your thread stash so you always know what you have and what you need.  It even includes a canvas calculator so you can figure out what size you'll need.  It supports several major floss brands (although you know you've got my heart, DMC).
A stash app for your fabric, available on iPhone/iPad.  You can take photos of your fabrics, add notes, and organize them by color, manufacturer or line, or style.  When you're shopping and spot yet another perfect fabric, you can easily check your stash to see if it coordinates or if you really need another monkey print (you probably do).
This app lets you upload photos from your Android device to your Ravelry account.  You can use it with the Ravulous app, which I haven't tried yet, so I just use it with the mobile Ravelry site.
This isn't the prettiest app, but it is super functional. You can save mulitple counters and name them for different projects or different parts of the same project. Each project also lets you count pattern repeats as well as rows. Don't let the neon turn you away; it's great because it's so simple.
This is just a small sampling.  Really, there are tons of craft-friendly apps to choose from.  There's a whole world beyond Angry Birds.  Take that amazing little piece of machinery in your pocket and make it work for you.
I'm always on the lookout for great useful apps.  Have a favorite?  Let me know!