I'm no expert at knitting lace. But I like it. A lot.
The rhythm, the complex pattern, the fine yarn, the joy of seeing a noodly pile of yarn turn into gorgeous shapes.
And the "wow factor", of course.
But this little shawl, she's determined to make me work for it.
I started on the Echo Flower Shawl last year, wanting to challenge myself.  I bought some beautiful Cascade Yarns Alpaca Lace in a rosy pink.  With the flower pattern and the color, I dubbed this project "Girly".
I realized right away this one would be a challenge, but I ket my eye on the Ravelry support group, asked questions, watched videos.
I finally headed to my LYS for help when yet another row came up with the wrong amount of stitches.  After a confusing conversation trying to explain that I knit left-handed English style (because why make it easy on myself?), we discovered that in my already backwards knitting, I had been twisting stitches.  Quite possibly for years.
After a lot of thought, I decide to frog the unfortunate shawl, learn to knit Continental style, and try again.
A few months later (don't pretend you don't put things like this off too), I did just that.  After another frogging, as I'm rewinding the yarn, I run into this: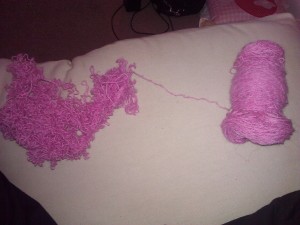 After several stubborn days, I finally admitted defeat.  They tried untangling at the LYS as well, but at last we broke the yarn.
My dear shawl started again, moving along much more smoothly, although I'll admit that the last time I ran into an uneven row, I put it down and forgot to pick it up for weeks.
This is what it looks like now.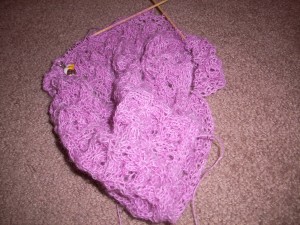 We'll get through this, Girly.  One day, we'll see the end.