So I've picked The Blue Monster back up.  I am determined to finish her.
I've been stuck on her legs.  Of course I have been.  They're the last thing I have to make for her.  In fact, as soon as I get one finished, the other will be no trouble at all.  It's just a duplicate of the first.  I think somtimes I just like to throw up unnecessary roadblocks.
Anyway, I've been making an effort to put a lot more thought into the shaping, the actual crocheting of my creatures, and to document the process so I can recreate them and even (hopefully soon) write up my own patterns.
After crocheting and frogging one round a few times, I decided to try charting.  Why I hadn't thought of that before is a mystery to me; I am a very visual learner.  I drew my round in symbols (some symbols I made up just to get a visual going).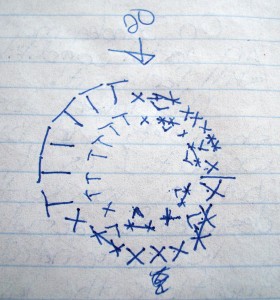 I still wasn't getting the numbers right.  I went from 20 stitches to 13 stitches when I'd only meant to subtract 4.  Now my math skills are seriously lacking in several areas, but even I know that's not right.
So I simplified it.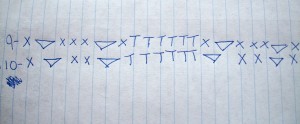 I rolled it all out and drew it as a row.  Ah-ha!  It suddenly makes sense!
Such a small thing.  But isn't it always the tiny things that are so frustrating?  Laying it out differently made the biggest difference.
Hopefully now this little creature can be finished within the next week.