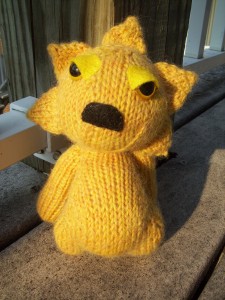 Born from the super hot heat wave of this summer, the angry sun doll is the first knitted toy I've designed.  I can't lie, I'm pretty proud. I'm happy he turned out pretty much the way I saw him in my head.
He's a robust little guy.  I played with some short row shaping for the tummy and neck.  Short rows are kind of the magic ingredient in knitting.  I'm trying to get to know them better.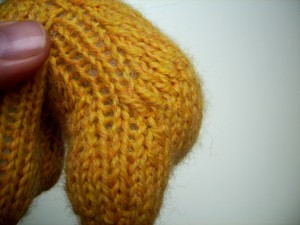 I had a couple hiccups while making him.  I love knitting with dps, but they are an absolute beast to work with in the beginning of a project.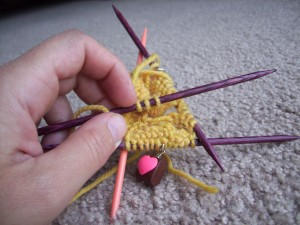 That right there?  That's just the needle I forgot to knit in the middle of joining the legs.  It really is like wrestling an octopus.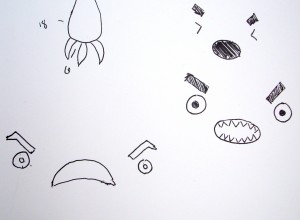 These are some ideas for a face I played with, but none of them seemed right.  I finally realized that he needed eyelids.  This is also the first time I've used felt for details on a doll.  I actually really like it.  It was the only way I could get the angry look I was going for.
As soon as he was finished, the intense heat wave seemed to have broken.  I can't believe we're completely out of the woods yet because August is usually one of our hottest months, but seeing 70 on the thermometer this week has been fantastic.
My boyfriend can't wait to stab him with a needle to get back at him for several weeks of miserable weather.
I figure it's only fair.